Canada is not just known for Tim Hortons and hockey; it is home to some of the best Universities in the world! The top three Canadian universities rank in the Top 50 Universities of the world according to different types of ranking like the QS, ARWU and THE ranking. Apart from affordable, world-class education facilities, Canada also offers high quality of life, a multicultural environment and an experience like no other. It is no wonder that admission to Canadian Universities is much sought-after.
Higher Education in Canada can be pursued in three types of institutions:
Public Universities
Public and Private Colleges
Career Colleges/Vocational Training Institutions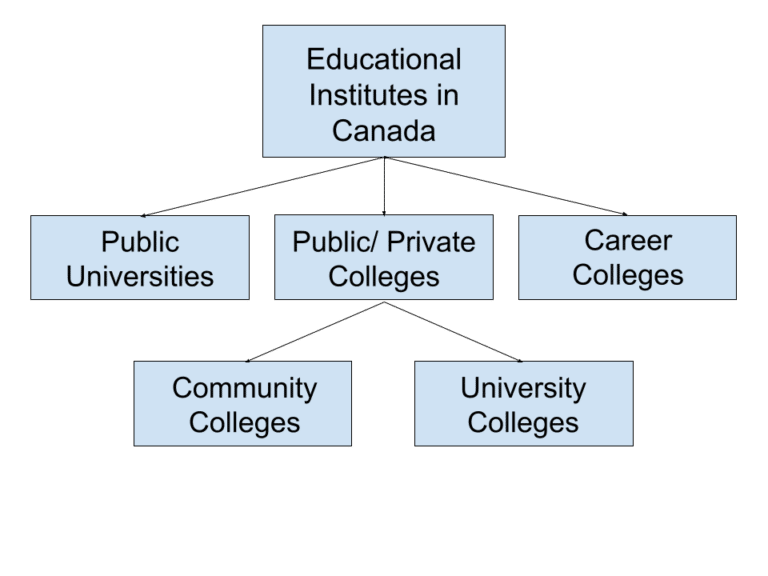 The government and the public fund these public universities. They also receive research grants from more significant institutions. These Universities are mainly autonomous and set their own academic standards, criteria for admission, and requirements for degrees. They offer a plethora of courses for various degrees at three continuous levels– Bachelor, Master and Doctorate. There are more or less 10,000 undergraduate and graduate degree programs, alongside other professional degree certificate courses. Students can also opt for certificates, diplomas or professional degrees, i.e. short courses or programs, if they have already been working and wish to upskill themselves and advance in their careers. Public universities mainly focus on teaching and research. They mainly focus on providing programs to help students develop academically and professionally. International students enrolled in these Canadian universities can work full-time or part-time during summer and winter breaks.
2. Public and Private Colleges
There are also publicly and privately funded colleges in Canada; The public colleges charge lower fees compared to the private ones, but there is not much difference as far as international students are concerned. However, in some cases, depending on the choice of program, a private university may be cheaper than a public one. Colleges primarily focus on providing programs that can be applied to make a career.
Canadian colleges can be further divided into sub-categories:
Community colleges: Community colleges offer more practical-based programs and courses, giving specialised training alongside other general subjects like English, Maths, Science etc. They work hand in hand with professional organisations to offer more career-oriented and developmental programs.
University colleges: On the other hand, university colleges provide degrees that focus more on the academic side and technical-oriented certificates and diplomas.
Note: Students enrolled in both public and private colleges can work up to 20 hours per week while still studying. However, they must hold a valid study permit.
Another great option if you are confused about whether to apply to a university or college is to do both. You can combine college and university degrees to prepare you academically and vocationally. A win-win situation! A combination of both will excel you in trade skills and ensure you are well versed in the theoretical aspects. The common pathway to do this is first to do a college diploma, then transfer your credits to a university to complete the credits requirement and get a degree. The second option is the other way round: to study at a university first, and then enroll in a college and upgrade your skills needed to specialise. Either way, it's the best of both worlds!
3. Career Colleges/Vocational Training Institutions
These Career Colleges offer specialised postgraduate diplomas to students who are already degree holders. These vocational training institutes aim to prepare students for the job market by giving them technical training in a skill or trade. They are private colleges funded through tuition fees and offer an expansive range of programs and courses, namely,
Information Technology,
Business and Trade,
Health Sciences,
Applied Arts and many more.
The students go through pre-trades classes or modules (like a Construction course which teaches them how to use hand and power tools etc.), language training (like Business English), skills upgrading and apprenticeship training. At the end of the program, a Document of Assurance is awarded to the students, which is a certificate for successfully completing the training. The duration of these apprenticeship programs could be one year to about four years, depending on your area of specialisation; however, some colleges offer a choice between intensive and extensive programs.
Master's Programs in Canada
Canadian Universities offer two types of Master's degrees: taught Master's degree and a research Master's degree. The main difference between these two types of degrees is the level of independence they give to the student enrolled in them.
Taught Master's degrees are similar to a Bachelor's degree, but the duration is shorter; they are usually 12 months (full-time) or 24 months (part-time). These degrees are 'taught' through a set of courses and programs. You are responsible for studying independently but the Professors in charge will guide you through it.
The other type of Master's program available is a Research Master's degree, a thesis-based degree program. The student must complete an independent research project under the supervision of a professor and the university. This type of Master's enables students to take up jobs requiring research work.
| Taught Master's degree (PGT) | Research Master's degree (PGR) |
| --- | --- |
| Relies on modules, lectures, workshops and lab work | Thesis-based |
| Gives extensive knowledge in the subject overall | Based on a specialised field of study which allows the student to focus on their area of interest |
| More professional and vocational | More flexible and independent |
| More suitable if you are looking for advanced subject knowledge | More suitable if you are looking for an academic career |
| Degree programs include Master of Arts (MA) and Master of Science (MSc) | Degree programs include Master of Research (MRes) and Master of Philosophy (MPhil) |
Canada provides a student with a perfect blend and balance of theory-based practical work and research work. It also puts the student first and allows them to complete their Master's degree at their pace (full-time or part-time). Doing your Master's in Canada will be an experience of a lifetime. Canada has a plethora of courses and degrees available and many unique specialisations as well. Some of the most popular fields in Canada to study for and to work in are:
Business and Finance
Medicine and Health
Information Technology and Computer Science
Engineering
Top Master's Programs in Canada
| Course name | Popular Universities for the course | Total fees (approx.) for the course – in CAD | Affordable Universities | Total fees (approx.) for the course – in CAD |
| --- | --- | --- | --- | --- |
| Master's in Accounting | -McGill University -York University -Queen's University | 45,000 – 80,000 | -Laval University -University of Montreal | 12,000 – 20,000 |
| Master's in Data Science | -University of British Columbia -University of Toronto | 50,000 – 70,000 | -University of Ottawa -University of Montreal -McGill University | 10,000 – 30,000 |
| Master's in Business Administration (MBA) | -University of Toronto -McGill University | 90,000 – 134,000 | -University of Victoria -University of Calgary -Laval University | 16,500 – 40,000 |
| Master's in Engineering | -University of Toronto -McMaster University -McGill University | 25,000 – 65,000 | -Queen's University -University of Alberta | 10,000 – 20,000 |
| Master's in Public Health/Health Science | -University of Toronto -McGill University -Simon Fraser University | 25,000 – 40,000 | -McMaster University -University of Alberta -University of Ottawa | 9,000 – 13,000 |
Other Master's programs that are in demand:
Civil Engineering
Psychology
International Relations
Media and Journalism
Engineering Management
Canada is becoming or has already become a dream destination for education for a vast majority of students who wish to go abroad and study due to its advanced teaching methodology, multicultural atmosphere and even its beautiful scenery! Time and again, Canada has proven to give students the best opportunity to balance various aspects. The Universities provide top-notch education, be it any field; however, the fees may be burdensome for some. This blog has covered the best degrees and ways to get scholarships so that you do not have to compromise for the university of your dreams.
Almost every University and College in Canada has its own Scholarship and Financial aid programs you can apply for. While some are merit-based and award scholarships for outstanding academic achievements, some even offer financial aid based on work experience and volunteering. Some top universities in the country, like the University of Toronto, McGill University, the University of Alberta and the University of Montreal, offer fully funded international scholarships. For further information about scholarships available for international students, you can visit the official EduCanada page for scholarships. Click here to see the page for more details.
To directly visit the scholarship page for non-Canadian scholarship opportunities, click here.
For more information about education in Canada, click here.
Now that you have read this blog, it must be pretty understandable why Canada and Canadian Universities are at the top of every list. Be it education, employment or opportunities, the list is endless! Deciding where you want to go for a Master's is one of the most critical decisions in a student's life. To sum it up, the key difference between a college and a university in Canada is that while the former is better for an applied career with specialised training, the latter is better if you are looking for an academic career. We hope that this blog was able to help you decide which path to take and accomplish your dream career.
To know about Canada study permit requirements and application process, read: